Bitcoin Bankomat Rijeka
15890.0
eur

Ul. Janka Polića Kamova 81a,
51000, Rijeka
Bankomat u prizemlju, desno, ispred glavnog ulaza. Sa ulaza se jasno vidi. U susjedstvu je tmobile salon.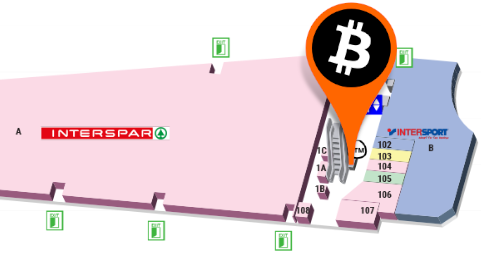 Bitcoin ATM Rijeka
Where can I find Bitcoin ATM Rijeka, Croatia?
Our Bitomat is located in Tower Center RIjeka, at Ul. Janka Polića Kamova 81a, 51000, Rijeka.
The ATM is on the ground floor, on the right, in front of the main entrance. It is clearly visible from the entrance. There is a T-mobile salon next door.
Bitcoin ATM Rijeka - What are the working hours of the Bitcoin ATM in RIjeka?
The Bitcoin ATM in Rijeka is open from Monday to Saturday from 09:00 a.m. to 9:00 p.m. :00 h as well as on Sundays from 10:00 a.m. to 9:00 p.m.
Bitcoin ATM Rijeka - Find our ATM on the map
What does the front of an ATM in Rijeka contain?
On the front of the ATM there is a screen on which you can read all the most important details regarding the execution of transactions (e.g. about cryptocurrencies that you can trade, other languages, etc.) In addition, on the front of our ATM in RIjeka there is QR code scanner and ID (identity card) scanner.
Bitcoin ATM Rijeka - Is buying Bitcoin at an ATM in Rijeka complicated?
To buy Bitcoin at this crypto ATM, you only need cash and your Bitcoin wallet to which you will transfer cryptocurrency. The QR code can also be scanned with a mobile phone. There is no need to connect to a bank, you don't need a credit card or a bank account.
How long does a transaction take via a Bitcoin ATM in Rijeka?
How long your transaction will take depends on the blockchain fee intended for miners. Since miners choose transactions with higher fees first, a low fee may delay your desired transaction. We do not take the fee for the blockchain transaction. On the contrary, we all need to pay it whenever we transfer cryptocurrencies.

What to do in case of difficulties during a transaction through a Bitcoin ATM in Rijeka?
Everyone on days when the Tower Center Rijeka Shopping Center is open, you can go there, make transactions easily and without any complications. However, if you have difficulties with transactions or do not know how to use the ATM, from Monday to Friday from 10:00 a.m. to 8:00 p.m. or on Saturdays from 10:00 a.m. to 2:00 p.m. you can call the number displayed on the ATM and our call the center will help you; or contact us via e-mail: [email protected].
Bitcoin ATM Rijeka - Is it legal to use a Bitcoin ATM?
The legal status of Bitcoin ATMs varies depending on the country and jurisdiction. In most countries, it is legal to use a Bitcoin ATM if it is run by a licensed and regulated company. In particular, our Bitomat in Rijeka is completely legal to use.
Bitcoin ATM Rijeka - What do others say about the Bitcoin ATM in Rijeka?
On this link you will find reviews of this Bitcoin ATM in Rijeka by our other users. By following our profiles, you are in contact with thousands of digital currency lovers.
You can talk with them, exchange experiences and gain knowledge in new areas. Leave your own review by clicking the link!